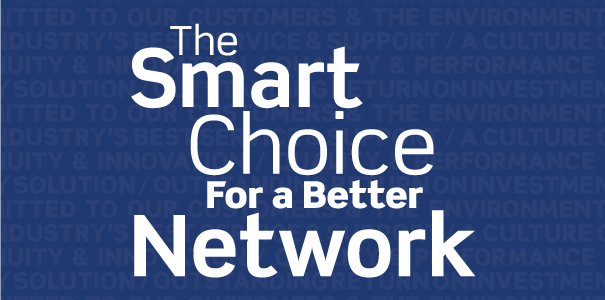 Leviton Network Solutions supports commercial and residential networks around the globe with an unparalleled selection of high-performance network infrastructure products and systems. From the server room to the living room, their proven end-to-end performance keeps people connected.
But it's not just products that make Leviton stand out. It's also peace of mind. Iridium Solutions and Leviton work together to deliver quality designs and installations.  We stand behind every installation. We offer industry-leading performance with unbeatable service and support throughout the life of your structured cabling system. Add in the reassurance that comes from working with a stable, century-old supplier and you get far and away the highest return on investment in the industry.
Iridium Solutions is proud to be both an active distributor as well as a certified installer for Leviton Network Solutions products.  Our partnership allows us to take on any size project from the design stage all the way through implementation and support.
We provide the following Leviton solutions
Copper Cabling (Cat5, 6, 7)

Patch Panels, Jacks, Connectors

Certified / Professional Installation
EXTREME® CAT 6A UTP SYSTEM
Our standard Cat 6A system, excellent for high-bandwidth networks
• Exceeds ANSI/TIA-568-C.2 Cat 6A and ISO/IEC 11801 Class EA requirements for cabling systems performance to support IEEE 10GBASE-T (802.3an) networks
• Third-party verified by Intertek Testing Services (ETL)
• Error-free performance up to 10 Gigabit Ethernet with full duplex transmission
• Backwards compatible with Gigabit Ethernet to provide seamless migration path to 10GBASE-T and supports all Cat 6 and Cat 5e system requirements

LEVITON CONNECTORS
EXTREME® CAT 6A CHANNEL-RATED QUICKPORT® CONNECTORS
• ETL verified for TIA Cat 6A channel performance
• Patented dual-layer T568A/B labels simplify punchdown and reduce rework
• Patented Cone of Silence® helps suppress alien crosstalk (AXT)
• Patented Retention Force Technology (RFT) protects against damage from 4- or 6-pin plugs
• Pair Separation Towers ease conductor separation
• Backward compatible with Cat 6 and 5e systems, and 1000BASE-T applications
• Proudly manufactured in the U.S.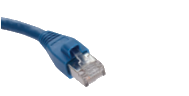 LEVITON PATCH CORDS
EXTREME CAT 6A PATCH CORDS
• ETL verified for TIA Cat 6A component and channel requirements
• Excellent alien crosstalk (AXT) suppression
• 26-gauge stranded for maximum flexibility in any density patching environment
• Nominal outer diameter of .24″ to reduce cable pathways in racks and cabinets
• Available in lengths of 3′, 5′, 7′, 10′ and in 4 colors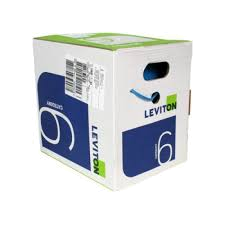 LEVITON CABLE
EXTREME CAT 6A UTP CABLE
• Independently tested and verified to meet ANSI/TIA Cat 6A and ISO 11801 Class EA performance
• Round, compact design provides easier installation and cable management
• Provides bandwidth required for multimedia, video, and other future applications
• Available in Plenum, Riser, and IEC 60332-1 (LSZH) flame ratings

LEVITON PATCH PANELS
CAT 6A E2XHD, 110-STYLE, AND QUICKPORT PATCH PANELS
• Available in cassette-style, 110-Style, and QuickPort flat, angled, recessed angled, recessed, and zero-u configurations in 12-, 24-, 48-, and 72-port counts
• Patented triple-stage compensation design with integrated flexible circuit enhances link and channel performance
• Gas-tight insulation displacement contacts provide excellent conductor retention and resistance to surface-contact oxidation for life of the system
• QuickPort patch panels available for high-density applications — 1RU, 48-port
LEVITON SDX PLATFORM
Versatile fiber optic patching solutions in multiple sizes and styles for TRs, MDU/residential building backbones and small data centers
The SDX System, part of the Opt-X family of fiber optic solutions, is a flexible solution designed for easy installation and maintenance. Whether it's the 2000i for data centers or 1000i and 500i for medium and small enterprise applications, each comes packed with features for better cable organization and maintainability. In addition, precision-molded SDX adapter plates, MTP® cassettes, and cable assemblies offer the flexible connection and storage options to meet any project need.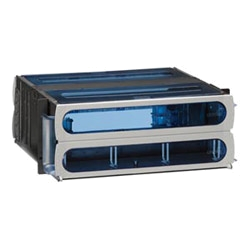 Opt-X® 2000i SDX Enclosures
Designed for enterprise and data center applications, the Opt-X 2000i SDX Enclosure combines all our most popular features into one eye-catching platform.
• Up to 72 LC fibers in a 1RU enclosure, 144 LC fibers in a 2RU enclosure, and 288 LC fibers in a 4RU enclosure using SDX adapter plates
• Removable sliding tray releases from front or rear of enclosure to facilitate field terminations and splicing
• 17-inch depth for high-density fiber termination and/or splicing
• Removable, transparent hinged doors and slide-away covers allow easy access and visibility
• Accepts injection-molded splice trays and 4" x 7" metal splice trays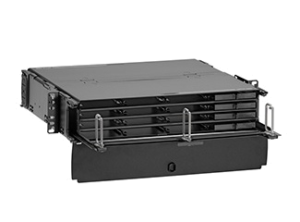 Opt-X 1000i SDX Enclosures
These durable enclosures allow for easy field termination of connectors, splicing, or patching pre-terminated plug-n-play solutions.
• Up to 72 LC fibers in a 1RU enclosure, 144 LC fibers in a 2RU enclosure, 288 LC fibers in a 3RU enclosure, and 360 LC fibers in a 4RU enclosure using SDX adapter plates
• 15-inch depth for high-density fiber termination and/or splicing
• Removable front and rear covers for better access to interior of enclosure
• Accepts injection-molded splice trays and 4" x 7" metal splice trays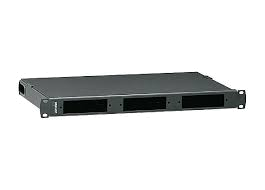 Opt-X 500i SDX Enclosures
Ideal for small enterprise applications, the economical 500i Rack-Mount Enclosure features a one-piece removable cover for complete accessibility to the back of the enclosure.
• Flush-mount adapter bulkhead for ease of moves, adds, and changes
• Accepts injection-molded splice trays and 4" x 7" metal splice trays
• Flush-mount panels available in 1RU, 2RU, and 3RU sizes
• Optional patch cord management tray installs directly to front of enclosure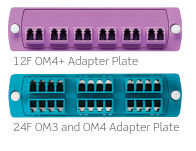 SDX Adapter Plates
• Unique precision-molded design is eight times stronger than metal adapter plates
• Captive push/pull fasteners for tool-free installation and removal
• Available in 6- to 24-fiber plates for LC, SC, and ST and 72- to 192-fiber plates for MTP®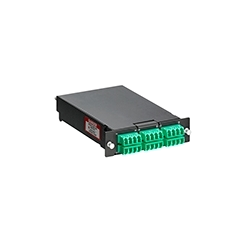 SDX MTP Cassettes
• Plug-n-play cassette eliminates the need for field termination or splices
• Each cassette supports up to 48 fibers using MTP-MTP, or 24 fibers using MTP-LC
• All cassettes use either 24-fiber or 12-fiber low-loss MTP connectors
• 100% factory tested with test results included with each cassette
• Violet color option available for OM4+
• Allows easy migration from 10 to 40 or 100 Gb/s